Needs to Be Filed
Cabin Fever: 10 Log Cabin Ideas For Kids
I may have been compensated for this post. Please keep in mind that it affects you in no way financially. If an item is being reviewed, I am not obligated to give a positive review and always use my own words. This disclosure is in accordance with the Federal Trade Commission's 16 CFR, Part 255: Guides Concerning the Use of Endorsements and Testimonials in Advertising. If you would like a review done contact Dannelle at op40k@aol.com
This seems like the winter that will never end AND it's full of new terms like "Polar Vortex". It's been so cold that many people found it unsafe to even leave the house, so playing outside is not even an option for the little people. Here is a list of 10 fun things to keep them from driving you going nuts.
The Lincoln Logs Classic Edition Tin gives kids raw materials to help them develop their creativity and motor skills. Invented more than nine decades ago, these wooden building sets have a rich history of inspiring and entertaining children. The blocks are still made in the same manner as the early days, with real wood and a high-quality finish to keep the blocks in top shape for years to come. With more than 80 pieces, children ages three and up will enjoy building the multitude of structures they can create.
Packed with great details, such as an open fire with chicken, wooden logs, tree and opening doors and windows, this log cabin is an ideal base for a wilderness adventure. Minifigure with backpack, paddle and canoe included. For something different, rebuild it into a country retreat or a river hut.
This spacious unfinished log cabin kit, made by Duracraft, is an example of rustic elegance. It features precut MDF pieces for sturdy construction, two stories, massive stone fireplace and chimney, moving door, inviting front porch, decorative gables and furniture including two beds, hutch, deacons bench, table, and benches. The log pattern is milled into the walls and roof for easy assembly.DuraCraft Shenandoah Log Cabin Kit Features: Two stories, one ladder 1/8″ precut plywood components All wood sturdy construction Massive stone fireplace and chimney Working front door Inviting front porch Decorative gables Two beds, kitchen table with benches, hutch and deacons bench Authentic dovetail log cabin construction Detailed pictorial assembly instructions Measures 31.5″ W x 24″ H x 22″ D
Our Pacific Play Tents Club House Tent is 50″ length x 40″ wide x 50″ high. It features mesh panels and windows for ventilation and easy viewing and the tunnel ports have roll-up flaps. Made of 70 denier, 190T polyester taffeta with P.U. coating. Also flame retardant and meets CPSIA, CPAI-84 and ASTM F963-11 and Canadian safety standards. Cleans up easily with a damp cloth and mild soap. Includes carry bag for easy storage and portability.
Real Good Toys Adirondack Cabin Kit
The Real Good Toys Adirondack Cabin Kit – 1-Inch Scale would be perfectly at home overlooking a peaceful lake, surrounded by winding trails and autumn foliage. Rustic and charming, this 2-story, open-back design includes four spacious rooms, a chimney, and staircase. Authentic log siding and trim in approximately 24 different lengths are included, as are wooden shingles for the roof. This cabin boasts an impressive 9-inch floor-to-ceiling height. This durable MDF cabin is built to last, with sturdy 0.25-inch smooth or milled clapboard exterior walls and grooved sidewalls. These ensure easy, one-step assembly, guaranteed fit, and durability. Additional logs can be purchased separately for interior decoration.This unfurnished cabin will take approximately 13 hours to assemble and finish. Step-by-step instructions with detailed drawings are included. Recommended supplies include a hammer, fine-toothed saw, glue, utility knife, masking tape, sandpaper, paint, brushes, ruler, and brads. This exquisite kit is suitable for use by collectors. As it includes small pieces, it's not recommended for children under the age of 3.About Real Good Toys Based in Barre, Vt., Real Good Toys has been handcrafting miniature homes since 1973. By designing and engineering the world's best and easiest to assemble miniature homes, Real Good Toys makes dreams come true. Their commitment to exceptional detail, the highest level of quality, and ease of assembly make them one of the most recommended names in dollhouses. Real Good dollhouses make priceless gifts to pass on to your children and your children's children for years to come. Ready-to-assemble rustic log cabin replica. 2-story, open-back model with 4 rooms. Features a chimney and wooden shingles for roof. Includes logs in 24 different lengths. Crafted from durable MDF with grooved sidewalls. Assembly time: approximately 13 hours. 24W x 16D x 19H inches.
Aurora World's My Forest Friends Carrier measures 8″ and is part of the Baby Talk line of baby-safe toys. The soft plush carrier is made to look like a log cabin and holds removable forest animals which each have sound and range in size from 2″-4″. Included inside are a deer (rattle sound), raccoon (squeaker sound), black bear (growl sound) and a squirrel (chitter sound) . Aurora World is an industry leader with over 30 years of experience designing and manufacturing innovative, high quality plush products.
Lincoln Log Big L Ranch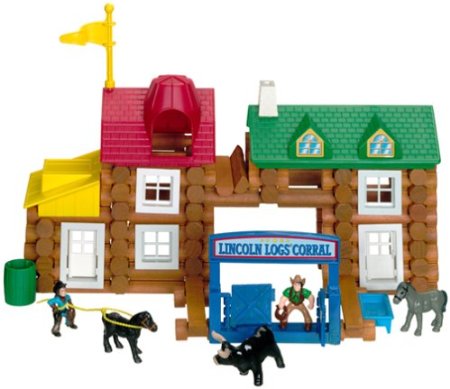 Recreate the old frontier in the playroom with the Lincoln Logs Big L Ranch! Build the ranch and then its time to round up the cattle! This building set includes real wood logs plus colorful figures and accessories. When playtime is over, put the parts back into the handy storage container for a quick and easy clean-up!
This is a wonderful collection of 30 high-quality amazing images produced by a series of today's top professional photographers. Enjoy and be inspired!
Laura Ingalls's story begins in 1871 in a little log cabin on the edge of the Big Woods of Wisconsin. Four-year-old Laura lives in the little house with her Pa, her Ma, her sisters Mary and Carrie, and their trusty dog, Jack.
Pioneer life is sometimes hard, since the family must grow or catch all their own food as they get ready for the cold winter. But it is also exciting as Laura and her folks celebrate Christmas with homemade toys and treats, do the spring planting, bring in the harvest, and make their first trip into town. And every night they are safe and warm in their little house, with the happy sound of Pa's fiddle sending Laura and her sisters off to sleep.
And so begins Laura Ingalls Wilder's beloved story of a pioneer girl and her family. The nine Little House books have been cherished by generations of readers as both a unique glimpse into America's frontier past and a heartwarming, unforgettable story.
Description taken from the back cover; (Ages 8-12)
Greg Heffley is in big trouble. School property has been damaged, and Greg is the prime suspect. But the crazy thing is, he's innocent. Or at least sort of.
The authorities are closing in, but when a surprise blizzard hits, the Heffley family is trapped indoors. Greg knows that when the snow melts he's going to have to face the music, but could any punishment be worse than being stuck inside with your family for the holidays?
(Ages 8-12)